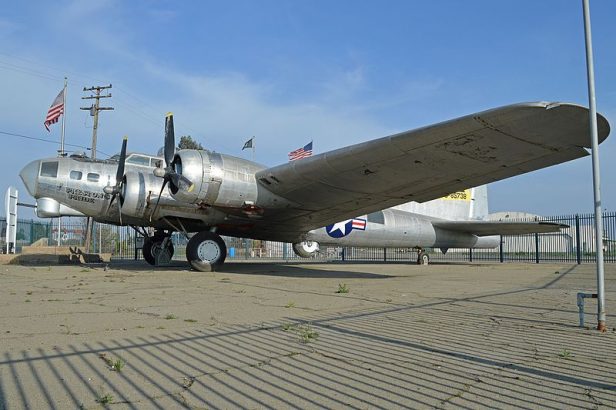 An all-volunteer group dubbed "B-17 Archaeology" has been working to carry out a cosmetic restoration on a B-17 that has been on outdoor display at Mefford Field in Tulare, California since 1958.
Originally constructed as a B-17G, the aircraft (S/N 44-85738) was delivered to the USAAF in May 1945 and placed in storage before participating in "Operation Crossroads," a pair of atomic weapons tests conducted at Bikini Atoll in the Marshall Islands in 1946. From there it moved on to Wright-Patterson AFB in Ohio and then the Air Proving Grounds at Eglin AFB in Florida before being struck off charge in August 1958.
Since then it has been on outdoor display in California, serving as a memorial to the 379th Bomb Group. Over the years it was vandalized and damaged in a collision with a runaway truck and was in desperate need of attention. B-17 Archaeology stepped in and not only worked to return the exterior to a factory fresh appearance, but have also been compiling the history of the aircraft, which is the last surviving B-17 from Operation Crossroads. When complete, this information will reportedly be presented in Surviving B-17s, the organization's series of DVD programs.
After the exterior is finished, the team would like to turn their attention to the interior, using donated parts to restore the cabin to its original post-WW2 configuration.
A public ribbon cutting for the restored aircraft is currently planned for Saturday, May 12 at 10am.
Check out the video below to learn more about the recent work.
(via Our Valley Voice, KMPH and B-17 Archaeology Additional Information via Warbird Registry Photo: Alan Wilson via Wikimedia Commons)