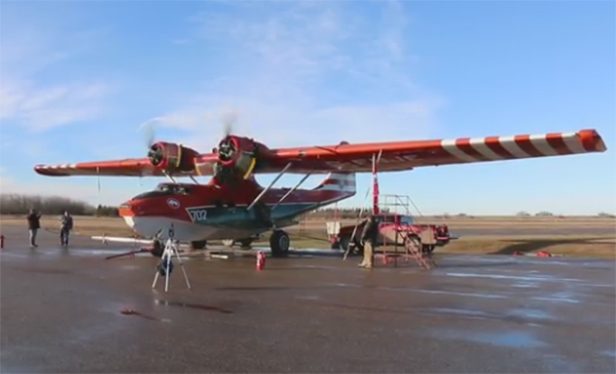 A Canadian-built PBY-5A Canso used to hunt enemy submarines during WW2 is preparing to take flight once again following a nine-year restoration.
The aircraft operated as RCAF11094 during WW2, performing its first flight in 1943. After the war, it was repurposed for use as a water bomber and served in this capacity until 2001, when it began taking on water while loading in Sitidgi Lake near Inuvik in Canada's Northwest Territories.
The Canso (C-FNJE) sank in 100 feet of water, but was later floated and pulled to the shore, where it was stripped and abandoned. The PBY sat for seven years until a group of six farmers/aircraft enthusiasts caught wind of the wreck and launched a rescue operation, ultimately transporting the PBY more than 3,000 km to Fairview by barge and trailer.
Working on Wednesday evenings, The Fairview Aircraft Restoration Society has returned the aircraft to its former glory, and now plans to return it to the air on Father's Day.
The flight is slated to take place at Fairview Airport with two of its former pilots in attendance. 94-year-old Hal Burns and 99-year-old James McCrae both flew the machine during its service in WW2 and will be traveling from Victoria, B.C. and Nova Scotia, respectively. While Burns says that he is thrilled "to just sit there on the sidelines and watch", McRae is hoping for more, stating, "I was hoping they'd offer me a ride, me and Burns. I would love to have a ride in it."
Click below to learn more about the project and watch the initial post-restoration engine/float tests.
(via Save the Canso and CBC News)