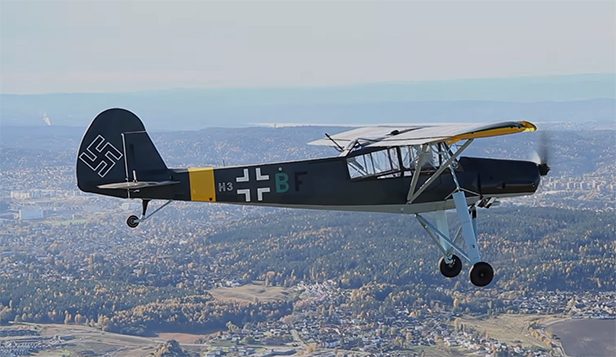 Earlier this month, Warbirds of Norway's newly restored Fieseler Fi 156 Storch performed its maiden flight from Kjeller airfield in Skedsmo.
The aircraft (Werknr. 1816) was one of the last examples of the type manufactured at the Morane Saulnier Puteaux plant near Paris, but was abandoned by the Germans as a partially completed machine when the city was liberated in August 1944. It was later completed by the French and identified as MS 500 S/N 43 with a manufacture date of November 23, 1944.
It served with French forces for the remainder of WW2, after which it became a civilian carrier (F-BJQB). In 1970 it was transported to the US and registered as N44FS where it remained until 2007, when it was acquired as a partially restored project.
The Storch was brought to a workshop in Fetsund where it underwent a 9,251 restoration. The effort sought to return the aircraft to "as near original Fi 156 C-3 condition as possible." This included the use of an Argus As 10C engine, original German instrumentation and equipment and the markings of H3+BF – a Storch belonging to Stab Jagdfliegerführer Norwegen of Jagdgeschwader JG-5. The only major deviation is said to be its fabric-covered, Morane-Saulnier-built metal wings.
The machine (LN-WNS) returned to the air on October 7th, performing a 30-minute flight that was described as "nearly perfect." It has since logged an additional three hours and was flown to Eggemoen on October 14th for winter storage. It will reportedly be based in Oslo and offered for airshows in northern Europe.
Click below to check out videos of the newly restored Storch in action.
(via Storch.no, Warbirds of Norway, Thomas Berg and Classic Warbirds Thanks, Andrew!)