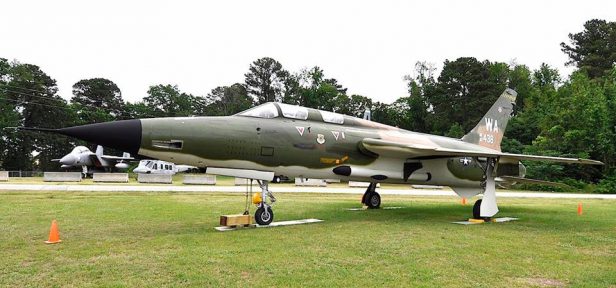 On Saturday, Pacific Aviation Museum Pearl Harbor dedicated their newly acquired F-105 Thunderchief as part of Hawaii's statewide "Welcome Home Vietnam Veterans" events commemorating the 50th anniversary of the war.
The aircraft (62-4438) was originally delivered to the USAF as an F-105F in February 1964 and was later modified to an F-105G "Wild Weasel" configuration. It served with the 116th Tactical Fighter Wing (ANG) at Dobbins AFB, Georgia before being retired in 1983 and placed on display at The Museum of Aviation at Robins AFB in Warner Robins, Georgia. The F-105 was recently loaned to Pacific Aviation Museum, arriving in Hawaii in April. It has since been reassembled and restored for display.
The supersonic fighter bomber is dedicated to USAF pilot Col Leo Thorsness, who earned the Medal of Honor following an aerial engagement in F-105F 63-8301 on April 19, 1967. Click below to check out photos of Saturday's dedication.

(via Pacific Aviation Museum Additional Information via Museum of Aviation (Archived) and Aerial Visuals)