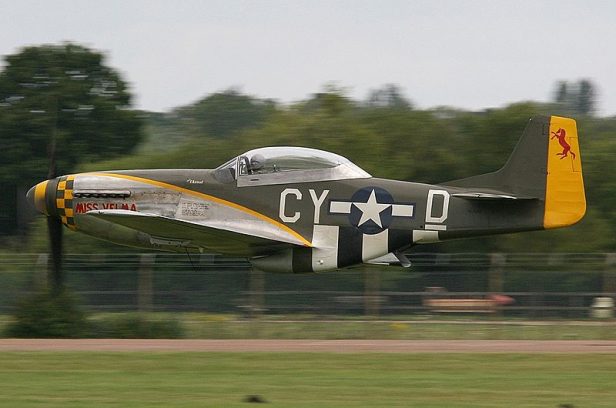 Two incidents involving P-51 Mustangs reportedly occurred during Flying Legends airshow at Duxford over the weekend.
TF-51D Mustang S/N 44-84847 "Miss Velma" (seen above) performed an emergency landing in a nearby field on Sunday. Thankfully, the pilot walked away unharmed and no one on the ground was injured.
Originally a P-51D, the aircraft was one of the last Mustangs built at North American's Dallas plant and went on to serve with the 45th Tactical Reconnaissance Squadron in South Korea before being returned to the US for use with the Air National Guard.
Restoration began in 1999 and the machine became part of The Fighter Collection at the Imperial War Museum the following year. It was transported to Chino, California and converted into a two-place TF-51D before returning to the air in 2007.
The exact cause of the incident, the extent of the damage and future plans have not yet been reported.
In a separate occurrence, P-51B "Berlin Express" reportedly suffered a canopy failure during its demonstration on Saturday. Thankfully, the pilot and spectators on the ground were said to be unharmed.
The Mustang is based around the remains of 43-24837, which operated with 363rd Fighter Group in Kent, England during WW2. On June 10, 1944 it crashed in Beckley during a training mission after the pilot was forced to bail out.
The machine underwent restoration in 2010 and performed its maiden flight in 2014 wearing the colors of "Berlin Express", flown by American ace Bill Overstreet of 357th Fighter Group when he flew under the Eiffel Tower while successfully pursuing a Messerschmitt Me-109 in 1944.
The extent of the damage to the airframe has not been reported.
Click below to check out videos of each incident.
(via Cambridge News, UK Airshow Review, bannistator and Lukas Zilm Additional Information via Flying Legends, The Fighter Collection, Mustangs Mustangs and Warbird Registry Photo: By Mike Freer/Touchdown-Aviation via Wikimedia Commons)