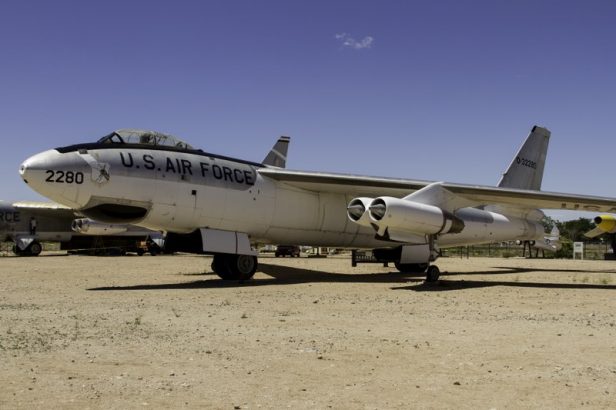 The National Museum of Nuclear Science & History in Albuquerque is planning to restore New Mexico's only Boeing B-47E Stratojet, which is currently part of their nine-acre outdoor exhibit area.
The machine (S/N 53-2280) was constructed by Boeing in 1955 and went on to serve mainly as a test bed for "fly-by-wire" technology. Following removal from the USAF inventory in 1969, it was transferred from the USAF Heritage Museum program, and in 2013 arrived at its current home at the National Museum of Nuclear Science & History.
One of only 23 examples of the type remaining, the museum's B-47 has become part of "Operation Preservation," a multi-year campaign to refurbish the collection's iconic aircraft residing on outdoor display. The effort will reportedly begin this month under the supervision of Brigadier General (Ret.) Jay Bledsoe, Restoration Project Manager, and include bodywork and a new coat of primer and paint.
The total cost is estimated to be roughly $110,000 and will be funded by "a multi-program effort to engage supporters and entities with personal ties to the Museum and the historic aircraft." The project is expected to be completed this fall, when a dedication ceremony for the restored aircraft will take place.
Those wishing to contribute to the project can do so here.
(via The National Museum of Nuclear Science & History and KRQE Photo: Balon Greyjoy via Wikimedia Commons)