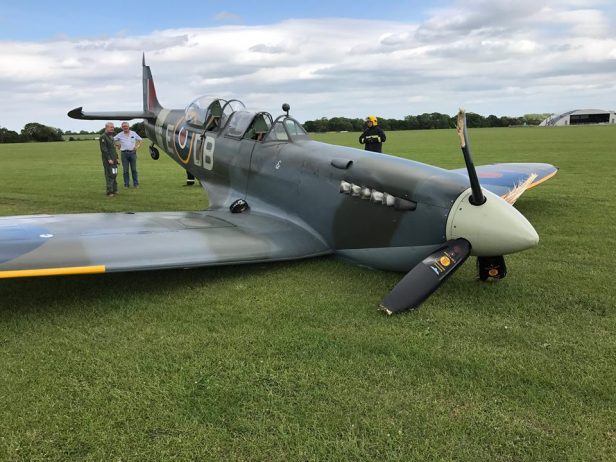 Aero Legends has reported that their newly restored Spitfire T9 (NH341) "experienced a landing today where the undercarriage was not fully locked down."
Both pilot and passenger escaped unharmed and damage to the aircraft "appears to be light."
As previously reported, the aircraft served with 411 Squadron RCAF in WW2, claiming two enemy aircraft before being forced down near Caen, France during combat with FW190s. Its remains were subsequently displayed at the Musee Memorial de la Bataille de Normandie and the Juno Beach Museum before being acquired by Aero Legends in 2011.
During restoration by Duxford-based Historic Flying Ltd, NH341 was converted from an LF Mk. IXb to a dual cockpit T9 and given the name "Elizabeth". The machine performed its first post restoration flight in March and has since been used for passenger flight experiences from Sywell Airfield in Northamptonshire and Headcorn Airfield in Kent.
Aero Legends says that a more comprehensive report on the Spitfire's condition will be released after engineers assess the damage. They hope to have the machine back in the air as soon as possible.
Update: NH341 has been recovered to a hangar on site. Engineers from Aircraft Restoration Company have inspected the…

Posted by Aero Legends on Friday, June 16, 2017

(via Aero Legends)