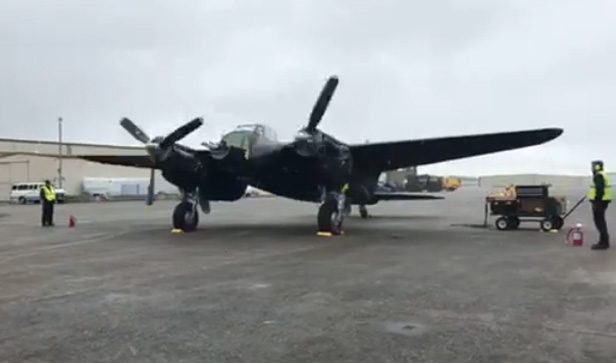 The Flying Heritage & Combat Armor Museum's newly restored de Havilland Mosquito has performed its first engine test since arriving at the museum's Everett, Washington facility in December.
As previously reported, the aircraft (previously TV959) is a TIII trainer previously held by the Imperial War Museum. It was fully restored by Avspecs Ltd. of Ardmore, New Zealand and painted in the temporary markings of NZ2337/TE757, a Standard Motors-built Mossie that was destroyed in a hangar fire at Ohakea in 1950.
The machine performed its first post restoration flight from Ardmore last September before being disassembled and shipped to its new home in the US. Since its arrival, the Mosquito has been repainted to represent NS838, "Wag's War-Wagon", the machine in which Flight Officer Alan Wagner of No. 605 Squadron became an ace in March 1944.
Check out the video below to watch the recent engine test. The public will reportedly have a chance to see it in flight at FHCAM's SkyFair on July 22.
See the mosquito's engines run for the first time on U.S. soil right here at the Flying Heritage & Combat Armor Museum! See her fly at FHCAM SkyFair on July 22!

Posted by Flying Heritage & Combat Armor Museum on Monday, April 10, 2017

(via Flying Heritage & Combat Armor Museum and Fight to Fly Photography Thanks, Pascal!)