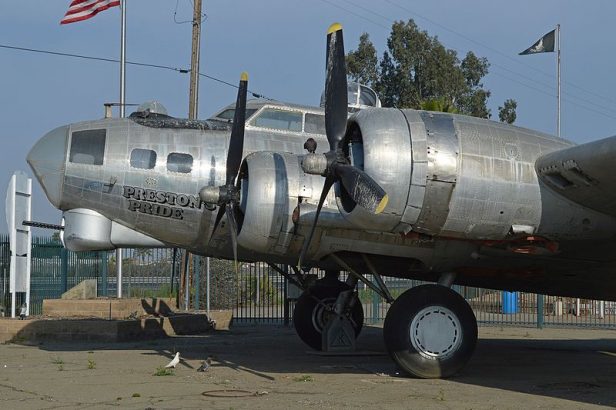 Following an exterior restoration, B-17 "Preston's Pride" was unveiled on Saturday in a ceremony at Mefford Field in Tulare, California.
As previously reported, the machine (S/N 44-85738) was originally constructed as a B-17G and delivered to the USAAF in May 1945. It was placed in storage before participating in "Operation Crossroads," a pair of atomic weapons tests conducted at Bikini Atoll in the Marshall Islands in 1946. From there it moved on to Wright-Patterson AFB in Ohio and then the Air Proving Grounds at Eglin AFB in Florida before being struck off charge in August 1958.
Since then it has been on outdoor display in California, serving as a memorial to the 379th Bomb Group. Over the years it was vandalized and damaged in a collision with a runaway truck and was in desperate need of attention. B-17 Archaeology stepped in and not only worked to return the exterior to a factory fresh appearance, but have also been compiling the history of the aircraft, which is the last surviving B-17 from Operation Crossroads.
The restoration, which was carried out by an all-volunteer group dubbed "B-17 Archaeology," saw the exterior polished to mirror finish before the application of new markings. The team is now hoping to turn their attention to the interior, using donated parts to restore the cabin to its original post-WW2 configuration.
Photos of the restored aircraft are seen below, along news coverage leading up to the unveiling and a video of the ceremony itself.

(via B-17 Archaeology, Fox 26 and March Field Air Museum Top Photo: Alan Wilson via Wikimedia Commons)