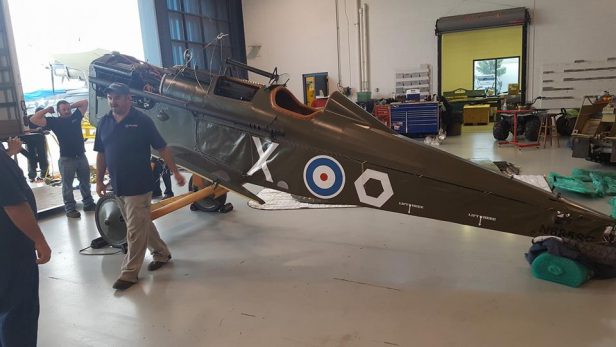 A beautiful Hispano-Suiza-powered S.E.5a has arrived at The Military Aviation Museum (MAM) in Virginia Beach, Virginia, where it will join their growing collection of WW1 and WW2 warbirds.
The aircraft was originally built from Replicraft plans and acquired by the museum as an unfinished static project. The experts at Vintage Aviation Services of Kingsbury, Texas were enlisted to perform a painstaking rebuild of the machine, bringing it to an airworthy standard while maximizing historical authenticity.
It is hoped that the aircraft will be ready in time to participate in MAM's annual Biplanes & Triplanes WW1 Air Show, which is currently scheduled for October 6th and 7th.
Click below to check out additional images of the S.E.5a after its arrival earlier today.

For additional photos and details on the reconstruction of this aircraft, we recommend checking out the first and third issues of Aerodynamic Media's new early aviation journal The Flying Machine: Early Aero Quarterly.
(via Fighter Factory)