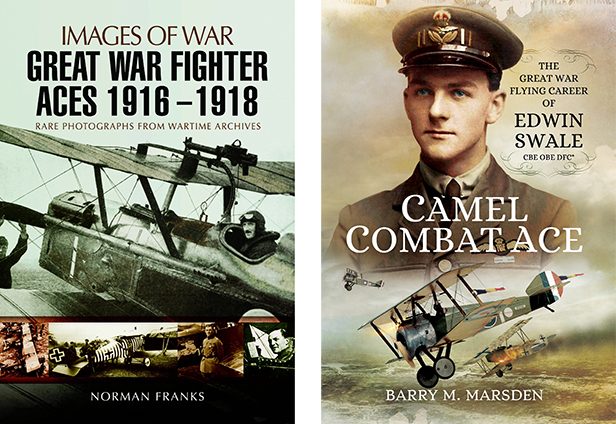 Two new titles from publisher Pen and Sword are set to provide new insights into WW1 aerial combat by focusing on the pilots who used budding technologies to wage an entirely new form of warfare.
Norman Franks' 144 page book Great War Fighter Aces 1916-1918 "explores the many ways in which fighter pilots developed tactics in order to outdo the opposition in the fight for allied victory" while also looking at "the development of militarized flight during the course of these key years, revealing how each side constantly endeavored to improve their aircraft and their gunnery."
In addition, author Barry M. Marsden has penned the new, 192-page biography Camel Combat Ace: The Great War Flying Career of Edwin Swale CBE OBE DFC*, which "follows the First World War career of Captain (later wing commander) Edwin Swale, CBE DFC and bar, who served with 210 Squadron RAF, piloting Sopwith Camel scouts between March and October 1918."
During this timeframe, he destroyed seventeen enemy aircraft, the majority being the formidable Fokker D.VII. He undertook a series of perilous operations, including patrols, bombing and strafing missions and bomber escorts. After the cessation of hostilities, he continued his flying career by piloting gliders over his native Derbyshire. He rejoined the RAF during the Second World War and ended the conflict as an intelligence officer in charge of Ultra operations with the 2nd TAF.
Both books are currently available for pre-order with an expected release in May.
Product Page (Great War Fighter Aces 1916-1918: $24.95 / Camel Combat Ace: $34.60 via AeroScale)