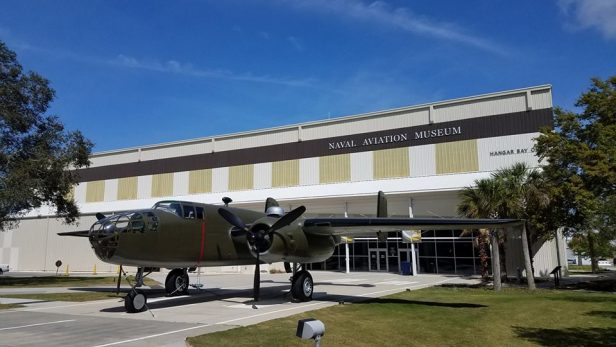 Earlier today, the National Naval Aviation Museum in Pensacola, Florida placed their newly restored B-25 on public display following 4,500 hours of work.
The machine, a PBJ-1D, was restored to commemorate the 75th anniversary of the Doolittle Raid and is painted in the colors of the B-25B flown by its leader, Lt. Col. James "Jimmy" Doolittle.
The mission to bomb Tokyo commenced on April 18, 1942, four months after the Japanese attack on Pearl Harbor. The raid marked the first time large Army bombers were flown from a Navy carrier, carrying limited fuel that would provide only enough range to reach their target before attempting to land in China. Tragically, three of the 80 airmen who participated in the mission were killed. Eight others were captured by the Japanese, three of whom were later executed.
As previously reported, the museum's aircraft has been stored outside for years, and much of the recent work was focused on removing and repairing corrosion and treating sections with a corrosion preventative. A great deal of time has also been spent ensuring that the markings perfectly match those seen on Doolittle's original machine.
The bomber is currently located outside the museum's Blue Angels Atrium. Click below to check out photos and video of its new look.

(via WEARTV and National Naval Aviation Museum)