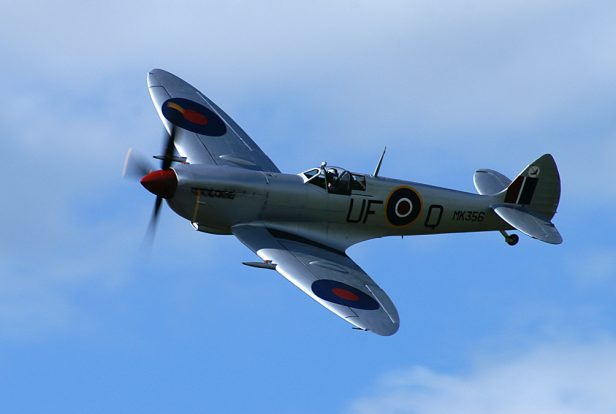 Battle of Britain Memorial Flight's Spitfire Mk LFIXe MK356 (seen above in 2010) returned to RAF Coningsby yesterday following a major overhaul by The Spitfire Company at Biggin Hill.
As part of the effort, the aircraft was repainted in order to commemorate "the hard-fought war in the deserts of North Africa." The new markings recreate the desert camouflage of Mk IX EN152/QJ-3 of 92 Squadron, a machine that operated in Tunisia during April and May 1943 and was once flown by Flt Lt Neville Duke, who became the highest-scoring Allied ace of the Mediterranean theatre with 27 confirmed victories.
MK356 was constructed at Castle Bromwich and delivered to 443 "Hornet" Squadron, RCAF in March 1944, performing its first operational mission on April 14. During the lead-up to D-Day, MK356 was used for fighter sweeps and ground attack, flying 60 operational sorties in support of the landings that resulted in damage from enemy fire, three wheels up landings and a partial credit for a victory over a Bf 109G.
Its operational life came to an end following the third crash landing and it was stored by a maintenance unit. Following the war, MK356 served as an instructional airframe, a gate guardian and a static prop in the 1968 film Battle of Britain before becoming part of the RAF Museum Reserve Collection.
A complete restoration to airworthy status began in 1992, and MK356 returned to the air in November 1997, subsequently joining BBMF.
Check out pictures of its new appearance below.

(via RAF BBMF, Royal Air Force Coningsby, Biggin Hill Heritage Hangar Ltd and Classic Warbirds Top Photo: Milan Nykodym via Wikimedia Commons Thanks, Andrew!)