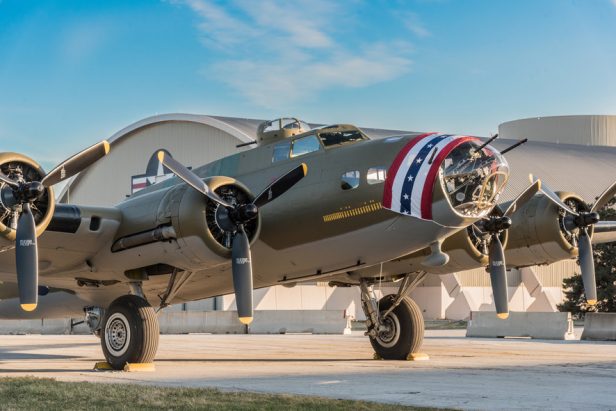 With the debut of the newly restored B-17F "Memphis Belle" scheduled to take place in May, the USAF Museum in Dayton, Ohio has planned a series of free presentations about the historic bomber that will take place later this month.
These programs will be presented by Dr. Harry Friedman of the Memphis Belle Memorial Association (MBMA), and National Museum of the U.S. Air Force Curator Jeff Duford, on April 18 at 1:30 p.m. and will repeat on April 19 at 9:30 a.m. and 1:30 p.m. in the museum's Carney Auditorium. During the event Friedman, who is also coauthor of the book Memphis Belle – Dispelling the Myths, will speak about the Memphis Belle's missions overseas, its return to the United States and the time the aircraft spent in Memphis, Tenn. Duford will discuss the restoration of the aircraft as well as the planning and construction of the new exhibit.
The Memphis Belle became the first the first U.S. Army Air Forces heavy bomber to complete 25 missions and return to the U.S. It flew across the country to promote war bonds and boost morale and even became the focus of a documentary and feature film. As previously reported, the highly anticipated unveiling of the restored bomber will take place at the USAF Museum on May 17-18 and will reportedly be attended by two B-17s and over 130 WW2 reenactors.
(via USAF Museum Photo: U.S. Air Force photo by Kevin Lush)