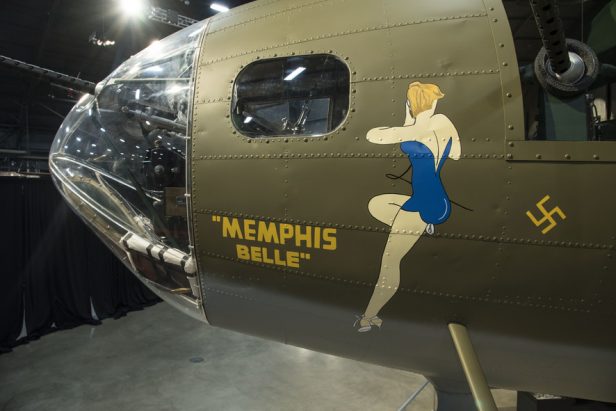 Yesterday, the newly restored B-17F "Memphis Belle" was unveiled in a private ceremony at the USAF Museum in Dayton.
Today's exhibit opening occurs on the 75th anniversary of the machine's 25th and final mission, after which it returned to the US and toured the country to promote war bonds and boost morale. Described as "a national aviation treasure and widely recognized symbol of American bravery and heroism during WWII," the new permanent, public display in the collection's WW2 gallery reportedly includes interactive displays, rare archival film footage and many personal artifacts which have never before been on display at the museum.
The opening also saw the arrival of B-17s, P-51s and a trainer which will be on public display until 3:30 today, with a shuttle bus service bringing visitors to the display area. The aircraft are expected to depart around 5pm (UPDATE: The aircraft departed around 2:45 due to weather concerns).
Click below to check out videos of the Memphis Belle's unveiling as well as an overview of its restoration, warbird arrivals, and an interview with Robert K. Morgan, son of the Belle's primary pilot during WW2.

Click here to check out the complete schedule of unveiling events.
(via USAF Museum, AirForceTV, Mid-America Flight Museum, Wright-Patterson AFB and U.S. Dept of Defense Photo: U.S. Air Force by Ken LaRock)