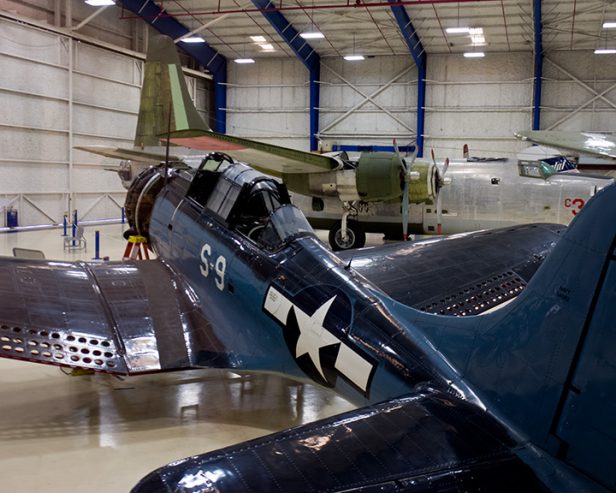 On Saturday, the Lone Star Flight Museum conducted its final day of business in its Galveston, Texas hangar and will now begin the process of relocating to a new $38 million, 138,000 sq ft facility at Houston's Ellington Airport.
The museum's farewell event included free exhibits and flight raffles which drew hundreds of families and enthusiasts. Museum President Larry Gregory described the day as "bittersweet" noting that he will "miss being a tour guide over Galveston."
The decision to relocate was made after Hurricane Ike caused flooding and damage to the museum and its aircraft back in 2008. The effort is focused on protecting the collection and placing a focus on STEM education via a variety of new programs and technologies.
As previously reported, the new Houston facility will consist of two large hangars dubbed "Heritage" and "Waltrip". The Waltrip hangar, named in honor of museum founder Bob Waltrip, will boast a large maintenance area viewable to the public via a second floor walkway.
The new museum will also feature flight line access, meeting rooms, a 250 seat auditorium and an aviation learning center tailored to students in grades 5-12. Here, groups of 20-30 students will use 10 flight simulators and a donated Mooney aircraft to learn about the basics of flight and weather/flight training, performing a preflight inspection of a real airplane and a virtual "out and back" flight from Houston to a nearby destination.
The museum will continue to offer flying tours and exhibits centered on Texas aviation history, including the revival of the Texas Aviation Hall of Fame, which was a victim of the 2008 hurricane.
Lone Star's collection of roughly 40 mostly airworthy warbirds (including a B-17, B-25, P-47, Hellcat and Corsair) will reportedly fly to the new facility together sometime next month. The new Houston museum is currently slated to open on Labor Day.
(via Houston Chronicle Photo: Mike Fisher via Wikimedia Commons)