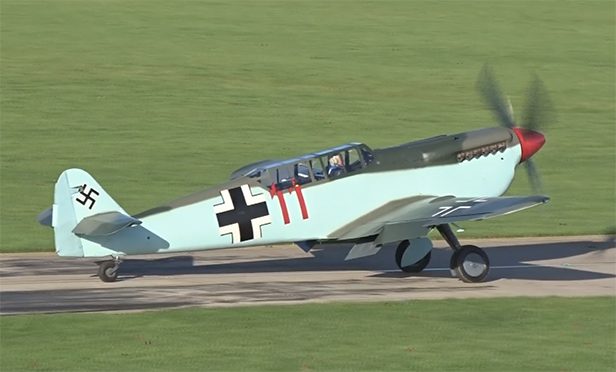 On November 24, Hispano HA-1112 M4L Buchon G-AWHC performed its first post-restoration flight from Sywell Aerodrome, Northamptonshire with pilot Richard Grace at the controls.
The aircraft (C/N 40/2) is the only remaining example of the two-seat aircraft built by Hispano Aviación. Constructed in 1954, it served with the Spanish Air Force until the type was retired in 1965. Soon thereafter it became one of 27 Buchóns gathered by Hamish Mahaddie for use in the 1967 film The Battle Of Britain.
The production included input from WW2 aces Robert Stanford Tuck (RAF) and Adolf Galland (Luftwaffe) who reportedly went flying together in G-AWHC in order to "compare notes." After filming was complete, the machine became part of Connie Edwards' collection in Texas before being acquired by Air Leasing, Ltd. and relocated to the UK for restoration to airworthy condition.
Click below to check out videos of Friday's flights.

(Sywell Aerodrome via World Warbird News and Classic Warbirds Additional Information via The Victory Show Video and Top Still: Jeff Bell Thanks, Andrew and Pascal!)