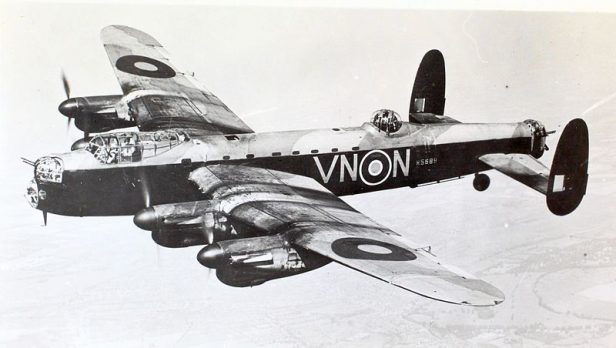 Earlier today a groundbreaking ceremony was held for a full-scale Avro Lancaster monument that will be placed at Brills Farm adjacent to the A46 on the Lincolnshire / Nottinghamshire border.
As previously reported, the 98-foot-tall steel monument, dubbed "On Freedom's Wings," was unanimously approved by the North Kesteven District Council last month. The installation will consist of a steel frame mounted on a slim steel support structure to give the impression of flight, and will depict Lancaster R5689 (pictured above) heading home toward the former RAF base at Swinderby Airfield. It is intended "to remind visitors of Lincolnshire's inextricable link to the RAF and to act as a catalyst for people to visit the many attractions in the county."
Today's event was reportedly attended by WW2 Bomber Command veterans, including Dambuster George "Johnny" Johnson, who assisted in the process. Click below to check out video of the groundbreaking as well as photos of a scale model depicting the monument's proposed design.
#NEWS: Britain's last surviving Dambuster George Johnny Johnson has joined other veterans in breaking ground for a project to put a sculpture of a Lancaster bomber on the #Lincolnshire border.

Posted by Lincs FM on Tuesday, May 15, 2018

Fundraising is currently underway for construction of the monument. Those wishing to contribute can do so here.