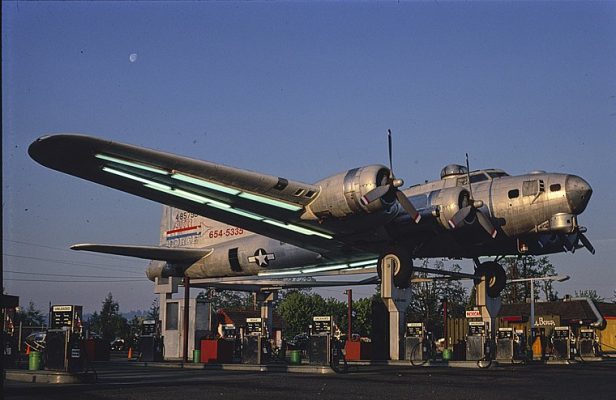 The B-17 Alliance Foundation has put out an "urgent request" for donors in order to secure 12 propeller blades for the restoration of B-17G S/N 44-85790 "Lacey Lady."
Following service with the USAAF, Lacey Lady was acquired as surplus in 1947 by Milwaukie, Oregon gas station owner Art Lacey, who made a five dollar bet with a friend that he could put the bomber on the top of his business. Lacey, who was also a pilot, enlisted his former flight instructor and a friend who served as a B-17 crew chief to fly it from Oklahoma to California, where it was dismantled, trucked to the station and installed as the canopy for his gas station and restaurant.
After serving for decades as a roadside attraction, Lacey Lady is now undergoing restoration to airworthy condition at McNary Field in Salem. However, the original propeller blades had been drilled with 1/4″ holes in order to hang banners, making them unairworthy. After a lengthy search, a complete set has been located in Georgia and is now on a limited time hold.
Each blade is priced a $3,000, and must be purchased together. Six donors have already stepped forward to purchase one blade each for the project, but six more are still needed. Each contributor will have their name inscribed on one of the original blades, which will be on exhibit in the B-17 Alliance Museum indefinitely.
Project volunteer Lee Nielson states that he has not yet seen the blades, but emphasizes that they must pass an airworthiness inspection before acquisition:
We will not purchase them if they don't pass inspection. It doesn't matter what they look like. The bottom line is they have to be airworthy. They can look pristine, but there's an airworthiness directive out on those propeller blades.
See below for additional information on contributing to the effort.

(B-17 Alliance Foundation via KGW)