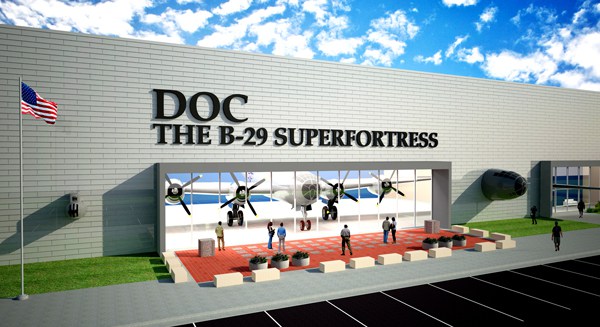 With less than a month to go, a Kickstarter campaign to build a permanent home for the newly restored B-29 "Doc" has gathered only a small fraction of its target, prompting "an added sense of urgency" for the bomber's caretakers.
As previously reported, the proposed $6.5 million B-29 Doc Hangar and Education Center will be based along the 1700 block of south Airport Road on the grounds of the Eisenhower National Airport in Wichita, Kansas. Offering a total of 32,000 sq ft (including 24,000 sq ft of hangar space), the new facility will not only serve as a home for the historic bomber, but also as "a working maintenance facility where the public can come and watch crews maintain Doc with hands-on learning experiences inspired by science, technology, engineering and mathematics (STEM) education."
As of this writing, only around $7,800 has been raised, a far cry from the $100,000 goal. However, even if the campaign is not fully funded by the September 16th deadline and the organization receives none of the pledged money, the project will reportedly move forward. A private fundraiser has already gathered $5 million toward the project, while the sale of inscribed bricks and tiles will help fill the gap. According to Doc's Friends spokesman Josh Wells, "We're comfortable with the money we have in the bank, and we're comfortable starting the project."
If you would like to learn more or contribute to the Kickstarter campaign click here.
(via The Wichita Eagle)