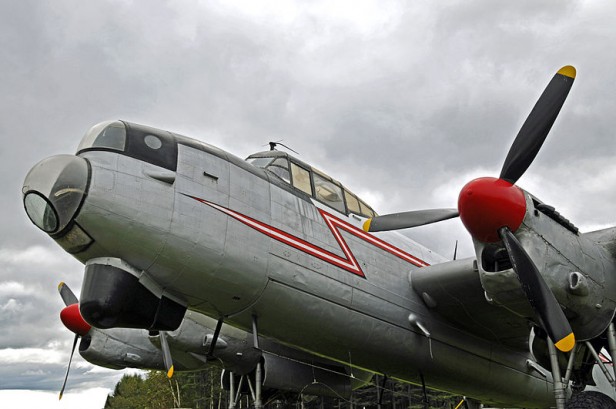 On Wednesday, the Royal Canadian Air Force (RCAF) will officially hand over Avro Lancaster KB882 to the National Air Force Museum of Canada (NAFMC).
As previously reported, the aircraft is one of 430 Mk.X models built by Victory Aircraft Ltd. in Canada, and is one of only 17 complete Lancasters known to exist. It served with RCAF Group 6 Bomber Command in WW2 and performed 11 operational sorties over Europe before being transported back to Canada in preparation for deployment to Japan (the war ended before this plan came to fruition). The bomber has been on outdoor display at Edmundston Airport in New Brunswick for over 50 years and constant exposure to the elements has left it in "critical condition". The city of Edmundston had previously transferred ownership of the aircraft to the Alberta Aviation Museum, but a Kickstarter campaign failed to raise the funds needed to transport and preserve the machine.
Last November the city transferred ownership of the deteriorating bomber to the NAFMC. The official transfer will reportedly take place at the Edmundston Airport and will be followed by the dismantling and transport of KB882 to its new home in Trenton, a process that is expected to take 3-4 weeks.
Previous reports noted that the machine will be "meticulously restored" for static display in time for the 100th anniversary of the RCAF in 2024 and will maintain its current reconnaissance configuration. The museum had also been considering a fundraising effort to construct a new facility adjacent to the current museum in order to give it a proper home.
The acquisition will give NAFMC the distinction of being the only museum in the world to have fully restored Lancaster and Halifax bombers on display.
(via Inquinte.CA Photo: Dennis Jarvis via Wikimedia Commons)