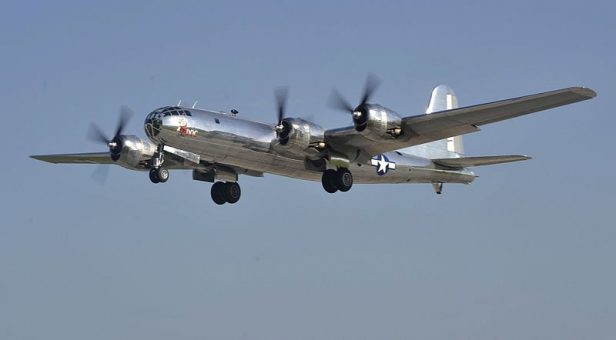 Recently restored B-29 Superfortress "Doc" will be protected from the elements during the winter and spring thanks to a new agreement with Air Capital Flight Line.
In a move Doc's Friends spokesman Josh Wells describes as "another example of their willingness to go above and beyond", the Wichita company has provided a hangar to temporarily shelter the historic warbird from potentially devastating weather conditions.
"Not only are we concerned about ice, but we're also concerned about snow, and even springtime weather threats. Any weather-related damage to Doc could delay or even derail our mission of operating Doc as a flying museum for years to come."
With Doc's safety secured, the machine's caretakers will be turning their attention to a flight schedule for the new year, and are also expected to announce the location of the bomber's permanent home, including a timeframe for construction, in the near future.
The aircraft returned to the air in July 2016 following 17 years and hundreds of thousands of hours of restoration, departing from McConnell Air Force Base in Wichita, Kansas. It has since performed several additional test flights, including a journey to Eisenhower National Airport. It is currently one of only two examples of the type in airworthy condition.
(via The Wichita Eagle Photo: Erin McClellan via Wikimedia Commons)