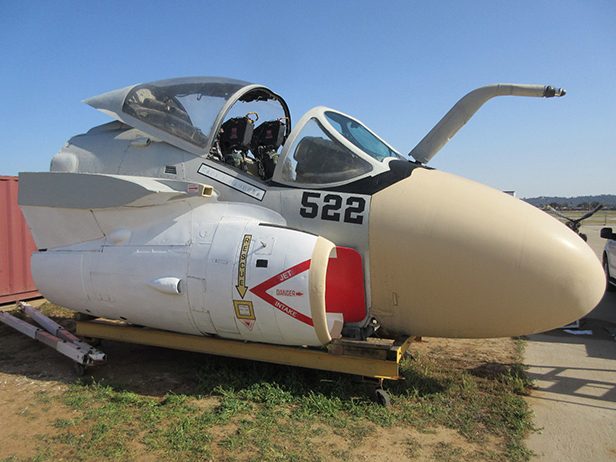 A Grumman A-6E Intruder nose / cockpit section has hit the market.
The section is described as an original Vietnam War A-6A Intruder that was converted to a KA-6D before being cut up for use in the 1991 movie Flight of the Intruder. The current owner reportedly acquired it from Hollywood with no interior and some missing panels, and spent the last 20 years collecting missing parts to restore it for display. It is now said to be "complete with all the interior items."
The cockpit has the correct GRU-7 pilot and BN ejection seats complete with seat kits, straps and parachute containers. The pilot's side has all the instruments, throttle quadrant, VDI, Gunsight, control stick and rudder pedals, etc.. The Bombardier Navigator side is complete with a radar scope, radar control pedestal and all the console boxes that make up the weapons system. The BN side will also come with the radar scope big plastic cover to make it easier to see the radar. Sticking out the top of the nose is the correct inflight refueling probe. The boarding ladders fold out and can be used but they hit the ground. The canopy and windshield glass is good with no damage. It has the correct radome with no damage.The canopy can be opened and closed with a hand crank in the back of the cockpit.
The section is reportedly located in a San Diego museum and is currently being offered for $24,999.95. Click here to check out the complete listing.