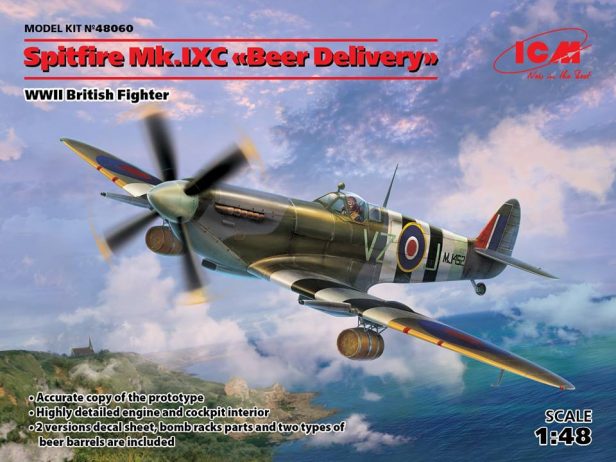 ICM has released their new tool Spitfire Mk IXc "Beer Bomber" model kit in 1/48 scale.
As previously reported, the beer bomber was the result of Heneger and Constable brewery providing free beer to troops following D-Day. As resources were focused on delivering vital supplies, RAF Spitfire pilots devised a delivery method which saw Spitfire Mk IX bomb/tank pylons modified to carry kegs. As an added benefit, delivery at high altitudes would serve to chill the beer so it would be ready to drink upon arrival.
The kit reportedly includes a detailed engine bay and cockpit as well as bomb racks and two types of beer barrels (with or without a fairing). Two liveries are also included representing ML316 of 308 (Polish) Sqn Royal Air Force and MJ452 of 412 Squadron, RCAF.
Product Page ($22.98)