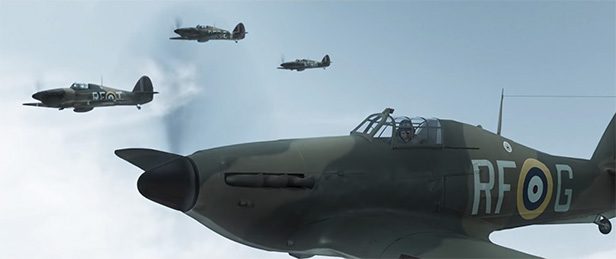 Kaleidoscope Film Distribution has released the official UK trailer for the upcoming film Hurricane, which reportedly tells "the untold true story of Squadron 303" and "the Polish fliers who found themselves fighting for the freedom of their own country in foreign skies."
Seen through the eyes of Jan Zumbach (played by Iwan Rheon), fighter ace and adventurer, it tells how the Poles, driven across Europe by the German war machine, finally made their last stand. Flying Hurricanes for the RAF over Britain, they became a key component in the legend of 'The Few'. Up against the might of the Luftwaffe they hoped that, by saving Great Britain from Nazi invasion, they were keeping the dream of a free Poland alive.
The film also stars Milo Gibson (Hacksaw Ridge), Stephanie Martini (Crooked House, Prime Suspect 1973), Kristof Hadek (Under the Skin, Dark Blue World, 3 Seasons in Hell), Marcin Dorocinski (Roza, Jack Strong, Pitbull, Anthropoid). The new trailer (seen below) is more lengthy than the teaser released in February, and also shows some new aerial sequences.
Hurricane will reportedly hit UK cinemas and digital platforms on September 7.
(via KaleidoscopeEnt and Hurricane)