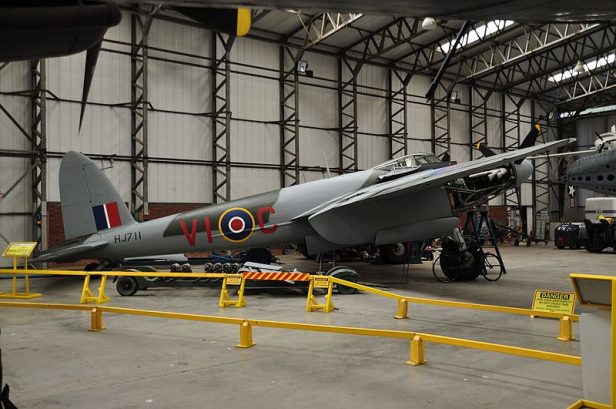 After spending many years at the Yorkshire Air Museum in Elvington, York, de Havilland Mosquito NF.II HJ711 will be moving to a new home at the Lincolnshire Aviation Heritage Centre in East Kirkby.
Owner Tony Agar is reportedly excited about the development, as the Heritage Centre has additional facilities available to complete restoration work that will ultimately enable HJ711's engines to run for the first time in over 70 years.
The aircraft was built at Hatfield in 1943 and went on to serve with 141 and 169 Squadrons, scoring the latter's first kill on January 30, 1944 when pilot Squadron Leader J.A.H. Cooper downed a Bf 110 over Berlin. Following the war, HJ711's forward fuselage was transferred to RAF Air Training Command at Chingsford before the nose section resurfaced at the Reflectaire Museum in Blackpool. Agar acquired the remains in 1971 and began a long term restoration to taxiing condition using components of PF498, VA878, NT616, and RS715.
Plans are currently underway for the relocation of the machine, which is expected to take place by November. As part of the effort, a crowdfunding campaign has been launched to help cover associated costs. Interested parties can contribute here.
(via Lincolnshire Aviation Heritage Centre and Mossie.org Additional Information via Warbird Registry Photo: Nilfanion via Wikimedia Commons Thanks, Pascal!)