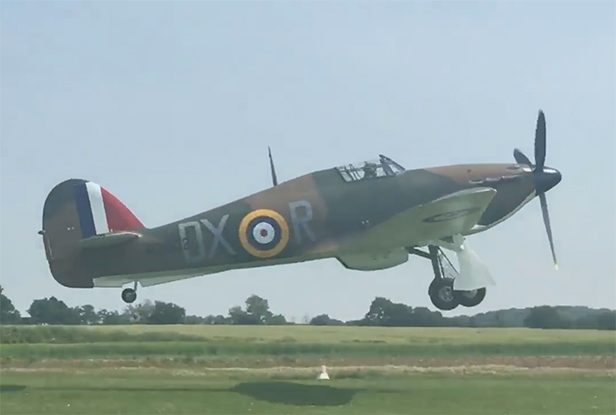 Earlier today, Hawker Hurricane Mk 1 (P2902/G-ROBT) returned to the air for the first time in over 75 years in a successful flight that lasted about 20 minutes.
As previously reported, the aircraft was built by Gloster Aircraft and served with 245 Squadron performing shipping protection patrols. In May 1940, Pilot Officer Kenneth McGlashan crash landed the machine on a beach at Dunkirk following an engagement with two Messerschmitt 109s. McGlashan survived, and attempted to set fire to the aircraft to prevent it from falling into enemy hands.
Over the years, the airframe was washed out to sea and became a menace for French fishermen, whose nets were continually being torn on the submerged wreckage. Following its discovery, the Hurricane was recovered by French enthusiasts and acquired by warbird operator Rick Roberts, who brought it to Hawker Restorations in Suffolk for restoration to airworthy condition.
Today's test was conducted by noted warbird pilot Stuart Goldspink at Hawker Restorations' new facility at Elmsett, near Hadleigh.
Click below to watch the historic warbird return to the air.

(via Hawker Restorations Thanks, Pascal!)