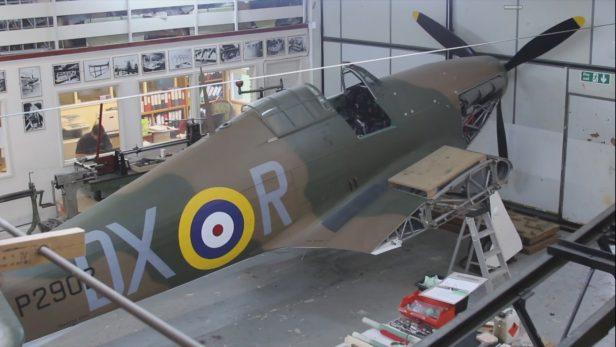 A Hawker Hurricane Mk 1 that was downed in combat during the evacuation of Dunkirk, France in WW2 is about to take to the air for the first time in over 75 years following a painstaking restoration.
The aircraft (P2902/G-ROBT) was built by Gloster Aircraft and served with 245 Squadron performing shipping protection patrols. In May 1940, Pilot Officer Kenneth McGlashan crash landed the machine on a beach at Dunkirk following an engagement with two Messerschmitt 109s. McGlashan survived, and attempted to set fire to the aircraft to prevent it from falling into enemy hands.
Over the years, the airframe was washed out to sea and became a menace for French fishermen, whose nets were continually being torn on the submerged wreckage. Following its discovery, the Hurricane was recovered by French enthusiasts and acquired by warbird operator Rick Roberts, who brought it to Hawker Restorations in Suffolk for restoration to airworthy condition.
The £2million, 25,000 hour project is now nearing completion, and according to Andrew Wenman of Hawker Restorations, the aircraft should be ready to fly by the end of March.
A look at P2902 during restoration, as well as an overview of Hawker Restorations' work, can be seen in the videos below.
(via Hawker Restorations, Mirror and Nik Coleman Thanks, Pascal!)