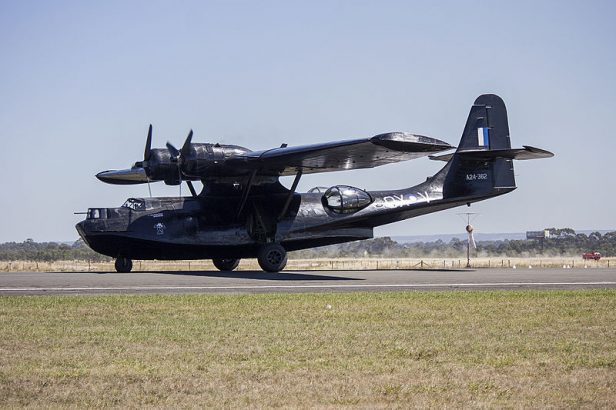 Following an emergency landing and three-month grounding, the Historical Aircraft Restoration Society's (HARS) PBY-6A Catalina (A24-362/VH-PBZ) is nearly ready to return to the air.
The machine was en route to the Rathmines Catalina Festival back in October when it developed engine trouble and landed at Maitland Airport in New South Wales, where it has remained ever since. Major progress toward a return to flight was made earlier this week when a rebuilt Pratt & Whitney R1830 engine was delivered to the site from the machine's home base at Ablion Park.
The engine has since been installed and test runs are planned for Wednesday. If all goes well, a test flight will follow and the team will return on a weekend to fly it home.
Built in 1945, the aircraft served with the US Navy and as a water bomber. After sinking in Lago Guitierrez, Argentina in 1986, the Catalina was salvaged and restored, returning to the air in 1988. It was acquired by HARS in 2002 and restored to "conform as closely as possible to the configuration of the famous RAAF 'Black Cats' of WWII." Today it wears the livery of A24-362, which served with 43 Squadron RAAF as OX-V and was flown by HARS member Rees Hughes.
The machine has been a star performer at the Rathmines Catalina Festival in the past and HARS project team leader Gordan Glynn indicates that it will return in 2018.
(via Newcastle Herald Additional Information via HARS Photo: Bidgee via Wikimedia Commons)