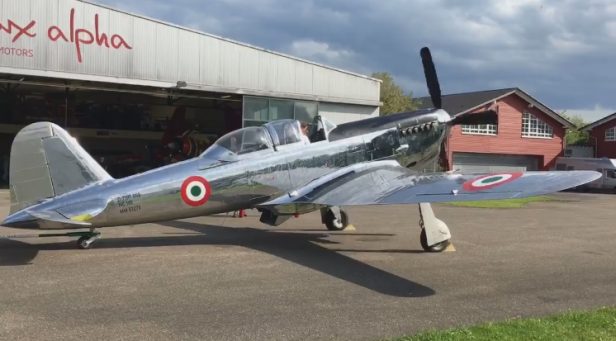 Yesterday, MeierMotors GmbH of Eschbach, Germany performed the first post-restoration rollout and engine test of their latest restoration project: a Fiat G.59-4B.
The aircraft (MM.53278) is a two-seat trainer variant of the famous G.55 Centauro WW2 fighter which utilized a Rolls Royce Merlin engine in place of the previous, license-built Daimler-Benz DB 605, which was in short supply. This particular aircraft was originally built in 1950 bearing construction number #179 and served with the Italian Air Force Flight Test Wing as "RS-25" before being stored at the Museo Storico dell'Aononautica Militaire in central Italy.
In the early 1980s, the machine was acquired by a private owner in Australia, receiving restoration in Chino, California and winning the Lindbergh Award at the 1987 Oshkosh fly-in. During this time it was also adorned with fictitious Italian camouflage in order to prevent it from being mistaken for a P-51 – an error that apparently occurred with irritating frequency.
In October 2015, MeierMotors acquired the G.59 for a local enthusiast and has since restored it, installing an overhauled Rolls Royce Merlin engine and returning the machine to its original polished finish. It will reportedly be based at Bremgarten Airport (EDTG).
Check out a video of the first post-restoration engine test below.

(via MeierMotors GmbH Additional Information via MeierMotors GmbH and Sanders Aeronautics)