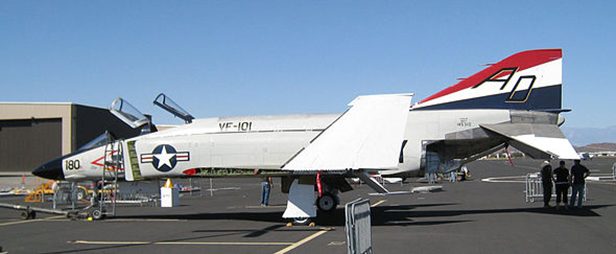 A 1959 McDonnell F4H-1F Phantom II touted as the world's only privately owned F-4 capable of flight has hit the market.
The machine S/N 150310 (N815WF) was delivered to the Navy in 1959 as the 11th pre-production example of the type. In 1961 it demonstrated its capabilities by carrying 22 Mk83 500lb bombs which were dropped at a range at Fort Bragg, North Carolina – a feat that is said to have been the deciding factor in the USAF's decision to order the aircraft. In 1961 it became one of three F-4's to commemorate the 50th anniversary of U.S. Naval Aviation. It was retired in 1964 after 461 hrs of service.
150310 has been under restoration for the past decade by Aircraft Restoration Services, LLC located at the French Valley Airport in California and the process is said to be 80-85% complete. The airframe has reportedly undergone a complete IRAN per U.S. Navy standards and has also been completely rewired. Additional work has included overhauling components to 0 time condition, rebuilding the fuel system with new fuel cells, rebuilding all hydraulics with stainless steel lines, installing new wheels and brakes and overhauling all three hydraulic systems as well as two pneumatic systems.
The4 Phantom is being offered "as is" and "where is" for $3,950,000. Click here to check out the complete listing.
(Photo: Wingtipvortex via Wikimedia Commons)