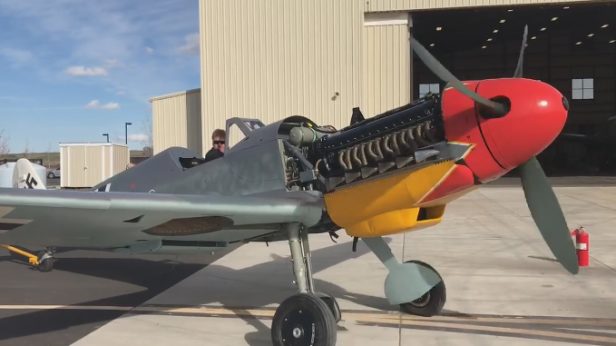 Restoration of Erickson Aircraft Collection's Messerschmitt Me 109/Hispano Buchon is nearly complete and engine tests are now underway in preparation for its return to the air.
The aircraft's fuselage was originally built under license by Hispano Aviation and equipped with a Rolls Royce Merlin engine. It was used in the 1969 film The Battle of Britain before finding its way to Erickson's facility in Madras, Oregon.
Pacific Fighters performed the restoration of the machine, bringing it as close as possible to an Me 109 configuration. Work included equipping it with new exhaust stacks, an original cowling and an Allison engine as a substitute for the original Daimler-Benz. It is expected to take flight sometime this year.
Click below to check out a video of the recent engine test.
You guys have been very patient and she's finally finished and has started test runs!! The restored ME109 🎉

Posted by Erickson Aircraft Collection on Saturday, March 18, 2017

(via Erickson Aircraft Collection Thanks, Pascal!)