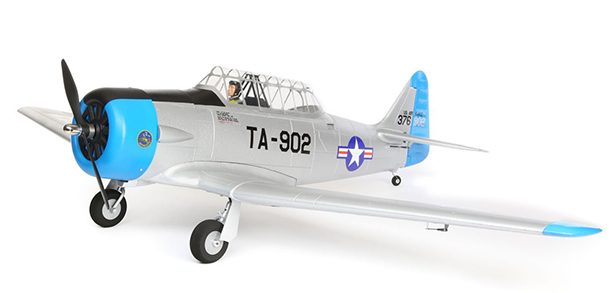 E-Flight has announced the upcoming release of an AT-6 1.5m RC model in both BNF Basic and PNP versions.
The model is touted as "a rare tribute" to the famous WW2 advanced trainer and "a chance to enjoy a beautiful flying scale model uninhibited by the flight envelope that bound the original."
The E-Flite AT-6 reportedly includes functional flaps and retracts, an EPO foam airframe with composite reinforcement throughout, a hands-free connection system for "ultra-simple" assembly, and a powerful 3S LiPo battery-powered brushless motor system with "ample room for a high-capacity pack under the pilot appointed magnetic canopy hatch." The model also includes an AS3X (Artificial Stabilization – 3-aXis) receiver to smooth out the effects of wind and turbulence resulting in "a sense of stability and precision that makes you feel like you're flying an expertly tuned aircraft."
Click below to check out a promo video for the new release.
The BNF Basic AT-6 (EFL8750) is currently on backorder while the PNP version (EFL8775) is available for pre-order. The next shipment for each is expected in early December.