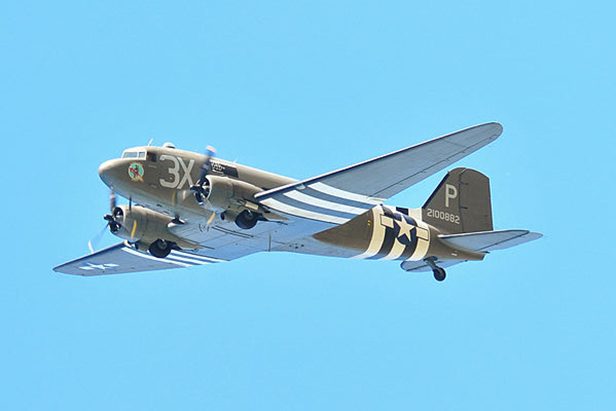 Kent-based Aero Legends has reported the acquisition of a restored Douglas C-47 with WW2 service in Normandy and Arnhem.
The aircraft (S/N 42-100882) was originally delivered to the USAAF in December 1943 and served with 87 Troop Carrier Squadron at Greenham Common, where it was named "Drag 'em Oot" as a nod to its role as a glider recovery machine. It went on to perform two missions over Normandy during the D-Day operation on June 6, 1944 before being transferred to the RAF that September for glider recovery duties with 1 Heavy Glider Servicing Unit. That same month, Drag 'em Oot participated in Operation Market Garden, receiving a dozen bullet holes in its forward fuselage.
Following repairs in August 1945, the C-47 was transferred to the 435 Squadron, RCAF serving as a trainer, transport and search and rescue machine. After retirement from military service, the aircraft operated with several US-based companies and was eventually grounded. In 2004, it was acquired by Paddy Green and ferried to the UK, where it was restored it to its present condition, complete with its original D-Day markings.
Regarding the recent acquisition, Green says, "I am delighted that I have found such a great new owner for 'Drag 'em Oot'. Aero Legends will be the ideal custodians for this truly historic aircraft and will continue to ensure that she will be seen on active duty in the skies of Europe for years to come. After 14 years of ownership, it time for me to move on and I can think of no one better to ensure her long term security."
Aero Legends states that the aircraft will be "kept in military trim" and used in various roles, including "parachuting, air displays and in support of the soon to be launched re-enactment business – Combat Legends Ltd." It will reportedly remain hangared at Lincolnshire Aviation Heritage Centre for the foreseeable future.
Check out the complete announcement below.

(via Aero Legends Additional Information via Touchdown Aviation Photo: John5199 via Wikimedia Commons)