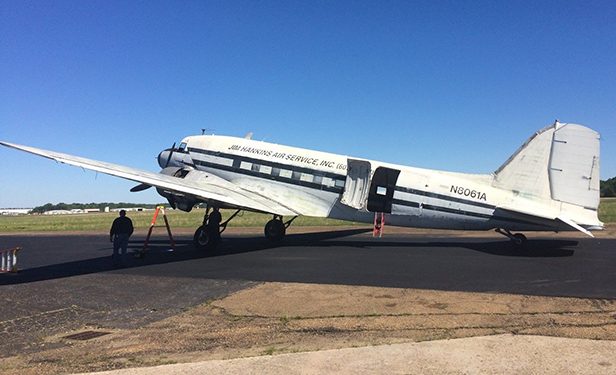 Douglas C-47 N8061A (C/N 06085, S/N 41-18679) has hit the market.
The aircraft was reportedly received by the USAAF in November 1942 and served with 805 and 4007 AAFBU. It was declared surplus in 1945 and went on to be operated by Canadian Pacific, Harrison Airways, Futura Airlines, StanNelco, Salair, Omni Air Group and Hankins Air Service. In April 2017 it was flown from Jackson, Mississippi to its current location in Apple Creek, Ohio.
The airframe has reportedly amassed 43,136 TTSN, while the Pratt & Whitney 1830-92 engines have accumulated 25 (LH) and 728 (RH) SMOH by Anderson and Aero Recip, respectively. All SIDs and ADs are said to be current and all compressions are reported as 60 or better. Additional features reportedly include shoe brakes, engine fire detection and extinguishing system, cargo door, cockpit jump seat and Airwolf spin on oil filters.
The control surfaces are said to be in serviceable condition, however the surface de-ice boots are in poor condition and some have been removed.
The machine is currently being offered with a starting bid of $150,000. Click here to check out the complete listing.