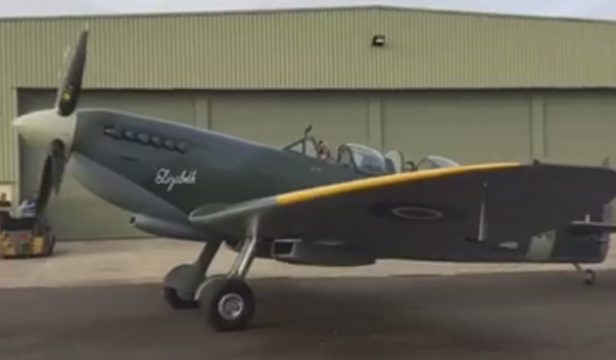 Aero Legends has reported that Spitfire NH341 will return to the air on Saturday, March 11th, marking the machine's first flight since the Normandy campaign in 1944.
As previously reported, the aircraft served with 411 Squadron RCAF in WW2, claiming two enemy aircraft before being forced down near Caen, France during combat with FW190s. Its remains were subsequently displayed at the Musee Memorial de la Bataille de Normandie and the Juno Beach Museum before being acquired by Aero Legends in 2011.
During restoration by Duxford-based Historic Flying Ltd, NH341 was converted from an LF Mk. IXb to a dual cockpit T9 and given the name "Elizabeth". It will be used for passenger flight experiences from Sywell Airfield in Northamptonshire and Headcorn Airfield in Kent.
Saturday's flight will be performed from Duxford Aerodrome with John Romain of the Aircraft Restoration Company at the controls. Click below to check out a final restoration update as well as a recent taxi test.
The maiden flight of Aero Legends Spitfire NH341 'Elizabeth' will be Saturday 11th March from Duxford Aerodrome. 'Elizabeth' will be flown by John Romain of the Aircraft Restoration Company

Posted by Aero Legends on Tuesday, March 7, 2017
The final restoration update of Aero Legends Spitfire NH341 'Elizabeth' given by Martin Overall of Historic Flying Ltd. The video shows the unique markings and state of the art camera system that is fitted to her.

Posted by Aero Legends on Wednesday, March 8, 2017

(via Aero Legends)