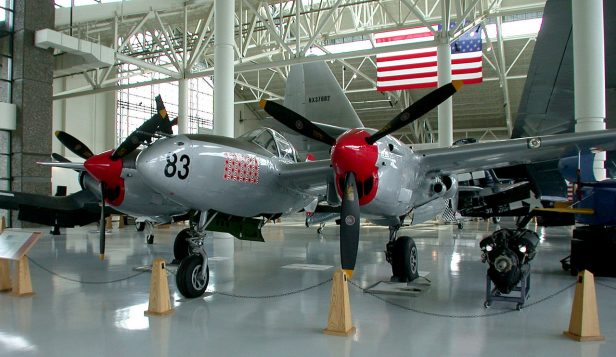 The Collings Foundation's recently acquired P-38L-5 Lightning was filmed performing an engine test last week as it is prepared for its journey east.
The aircraft (S/N 44-53186) was intended for use in photo reconnaissance but was stored in Arizona following the end of WW2. After being declared surplus, it was acquired by a succession of companies, including Kargl Aerial Surveys, Aero Exploration Co and Mark Hurd Aerial Mapping, before being parked in 1963. Over the following years the P-38 passed through the hands of several additional owners before being acquired by Evergreen Aviation Museum in McMinnville, Oregon, which restored the machine to pristine condition and placed it on display in 1997.
In 2014 the aircraft was offered for sale and was soon acquired by the Stow, Massachusetts-based Collings Foundation. It is currently at the Planes of Fame Air Museum in Chino, California where it is undergoing "further maintenance, flight evaluation, and preparation" prior to travelling to its new home next year. It will reportedly be based near the Foundation's headquarters, where it "will hold an important place" in their collection of superb vintage aircraft.
Check out the recent engine test below.

(Planes of Fame via Collings Foundation Additional information via Collings Foundation Photo: Greg Goebel via Wikimedia Commons)