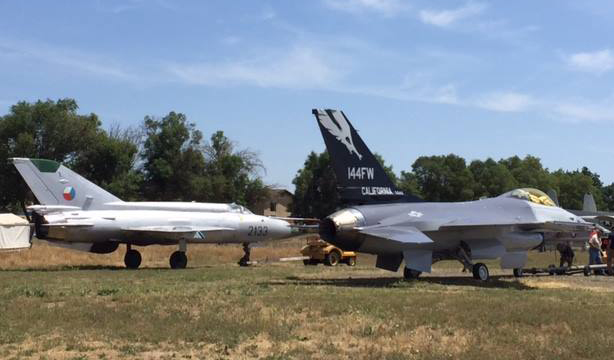 Castle Air Museum in Atwater, California has rolled out two of its newest acquisitions, an F-16A Fighting Falcon and MiG-21 Fishbed, ahead of its Open Cockpit Day on May 28th.
The F-16 arrived at the museum last March, having previously served with the California Air National Guard's 144th Fighter Wing in Fresno. Following retirement it was stored at Davis-Monthan AFB in Tucson, Arizona until an acquisition effort began in 2009 – a move that was heavily championed by retired Col. Larry McKoane, a former fighter wing commander with the 144th. It has since been restored, bearing McKoane's name and 144th Fighter Wing markings.
The MiG-21 arrived at the museum last month after being donated by a private owner in the Reno, Nevada area. The jet previously served with the former Czechoslovak Air Force and serves as the first adversarial aircraft in the museum's collection.
Click below to check out photos and video this week's rollout.

(via Castle Air Museum)