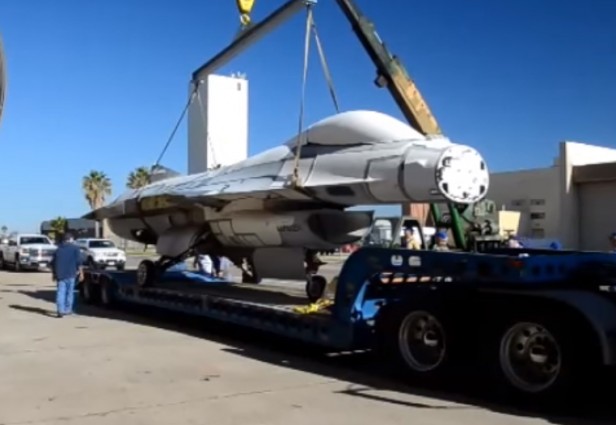 On Monday, an F-16A Fighting Falcon arrived at its new home at Castle Air Museum in Atwater, California.
The aircraft previously served with the California Air National Guard's 144th Fighter Wing in Fresno, and was stored at Davis-Monthan AFB in Tucson, Arizona when the wing converted to the upgraded F-16C. The acquisition has been in the works since 2009 and was heavily championed by retired Col. Larry McKoane, a former fighter wing commander with the 144th who actually flew the aircraft to Arizona after it was decommissioned.
The transport of the F-16 was accomplished by dedicated volunteers who disassembled the jet with training from the Air National Guard and provided the truck, trailer and drive time. With its arrival at the museum's restoration facility, 25-30 volunteers will begin the process of accurately restoring the machine to make it look "as if it's ready to fly".
Restoration is expected to take from nine months to one year. When complete, it will be one of the only examples of the type in the state, and will join a collection of what museum CEO Joe Pruzzo describes as, "a host of world-class aircraft – some of which only two or three are left in existence."
Check out the videos below to watch the F-16's delicate unloading operation following its arrival at Castle Air Museum.
(via Merced Sun-Star)