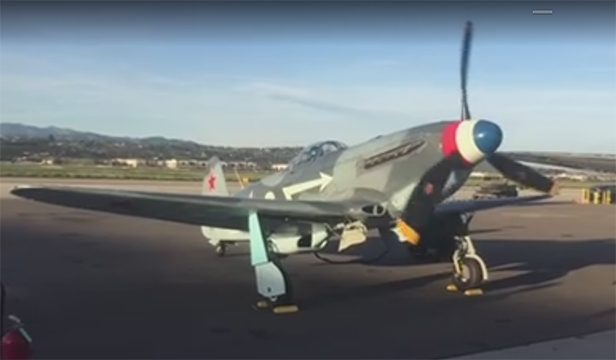 This week, the SoCal Wing of the Commemorative Air Force returned their Yak-3 to the air for the first time in eight years.
The aircraft was built in 1944 and flown by Boris Eromon after his Yak-1 was damaged beyond repair during a dogfight with 25 German fighters and bombers. He flew the machine for the remainder of the war, scoring more than 20 victories over Stalingrad and Berlin. After the war the Yak-3 was displayed in Moscow and Paris before arriving in the US, being based at the Santa Monica Museum of Flying and finally the CAF So Cal Wing in Camarillo, California.
The aircraft will reportedly appear at the El Centro Air Show this weekend. Click below to check out a video of this week's flight.
Our Yak3 had it's first flight this week after being grounded for 8 years. We are very proud of the crew that has worked so hard to get her back to flying status and just in time to go to El Centro Air Show this weekend.

Posted by Caf SoCal on Thursday, March 9, 2017

(via CAF SoCal Thanks, Pascal!)