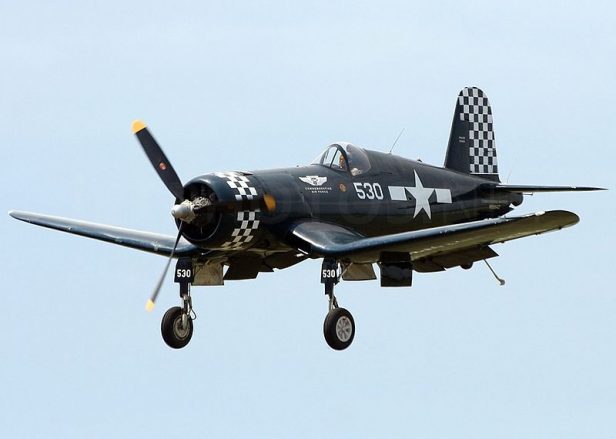 The Commemorative Air Force's FG-1D Corsair returned to the air earlier today for the first time following restoration work.
The machine, which has been on the ground for many months undergoing a firewall forward restoration and engine change, departed Kissimmee Airport in Florida for a 25 minute flight with pilot Thom Richard at the controls. It performed "perfectly" and two more flights are reportedly scheduled for this afternoon.
The aircraft (B/N 92468) was built by Goodyear and completed in July 1945. It never saw combat in WW2 and was relegated to stateside duties before being retired in 1956. The following year it was acquired by Ernest Huggins, who held it for one year before passing it on to Skip Underwood of Buckeye, Arizona. It remained in storage until being sold to CAF Hall of Fame member Marvin L. "Lefty" Gardner in 1960.
Click below to check out a video of today's flight.
FG-1D Corsair First Flight Post Restoration

Today, our FG-1D Corsair has finally taken to the skies once again, after many months spent in the hangar while a Firewall forward restoration and engine change were completed. This morning, Pilot Thom Richard took off from Kissimmee airport and flew for about 25 minutes. The Corsair performed perfectly. This afternoon, two more flights are scheduled. Thanks to Thom Richard and his crew at Warbird Adventures for the work performed on our beautiful Corsair. Special thanks to Kenneth Strohm for documenting the restoration step by step with his photography, and for this video of the first flight post restoration. #FG1DCorsair #CAFCorsair #Keepemflying

Posted by Commemorative Air Force Dixie Wing on Tuesday, August 15, 2017

(via CAF Dixie Wing Photo: André Du-pont (Mexico Air Spotters) via Wikimedia Commons)