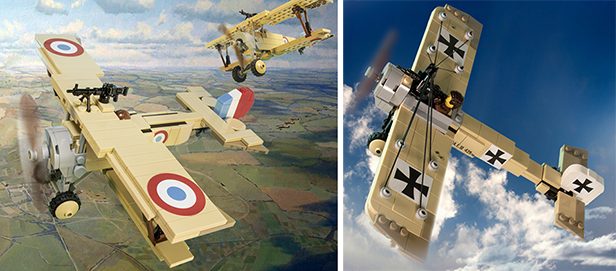 Brickmania's latest releases harken back to the dawn of aerial warfare with two of WW1's most important early fighters: The Nieuport 11 and Fokker E.III.
The Nieuport kit consists of 247 LEGO and BrickArms elements, including a custom-printed French pilot minifigure, a spinning propeller and a BrickArms Lewis Gun. A high-quality sticker sheet is also included. The Fokker E.III kit features 257 LEGO and BrickArms elements, a custom-printed pilot minifigure, moving propeller and stabilator, "authentic" warping cables, a BrickArms Maxim machine gun and a high-quality sticker sheet.
The new, limited edition kits are available individually or as a bundle. Click below to learn more.
Product Page (Nieuport 11: $170 Fokker E.III: $150 WW1 Aircraft Bundle: $272)