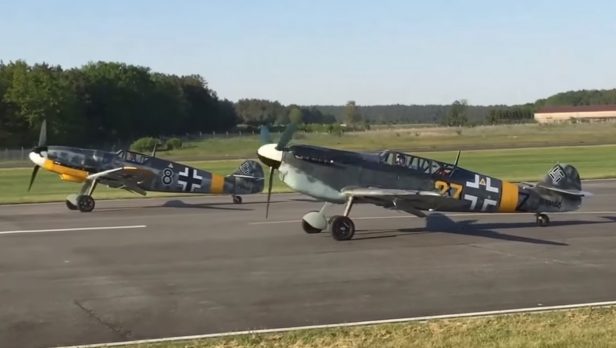 Martin Glöckner of the Hangar10 collection has posted stunning footage of the world's only original, airworthy Messerschmitt BF 109 G-6 taxiing with the world's only Bf 109 G-12 trainer at Heringsdorf Airport on the island of Usedom.
As previously reported, the G-6 (S/N 440738) was built by Wiener Neustädter Flugzeugwerke in 1944 and served with served with Jagdgeschwader 27 before crashing on May 29, 1944. It was recovered for restoration in 2007 and completed by MeierMotors GmbH of Eschbach, Germany.
The G-12 (S/N 440738 / D-FMGZ) was also restored by MeierMotors, being converted from a Hispano Aviación Buchón. The machine is powered by an original DB605 engine, although it is equipped with a QEC System (Quick Engine Change) which allows for the installation of a Merlin 500-45.
Both the G-6 and G-12 are currently available for sale with price tags of €4,950,000 and €6,950,000, respectively. Click below to check out the video.
(via Martin Glöckner Thanks, Pascal!)