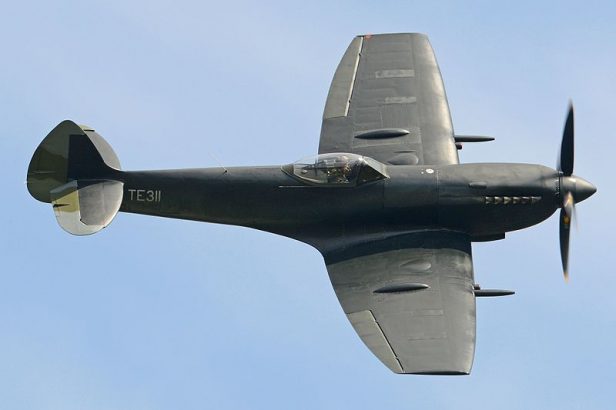 Battle of Britain Memorial Flight's Spitfire XVI TE311 has new markings after a visit to a Coningsby paint shop in February.
The machine, which most recently appeared in the all black "stealth" livery seen above, is now adorned with the markings of TD240 / SZ-G, flown by Captain Aleksander Gabszewicz of 131 Polish Wing.
TE311 was originally manufactured at Castle Bromwich in 1945 and served with with No. 1689 Ferry Pilot Training Flight and No. 2 Civilian Anti-Aircraft Co-operation following WW2. It was used for taxiing scenes in the 1967 film The Battle of Britain and also acted as a traveling display prior to being acquired and restored by BBMF, returning to the air in October 2012.
Click below to check out a time lapse video of the process as well as photos of the new livery.

(via Battle of Britain Memorial Flight (Official) and Lincolnshire's Lancaster Association Additional Information via Warbird Registry Top Photo: Alan Wilson via Wikimedia Commons)