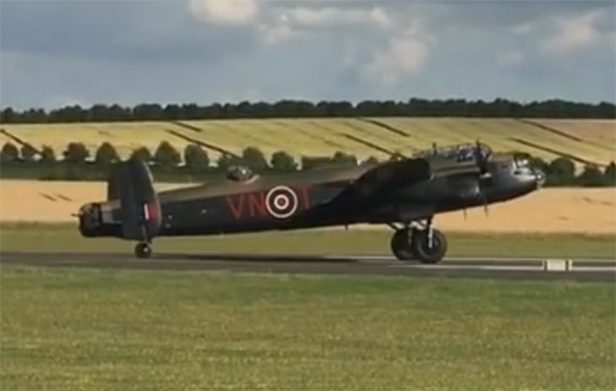 After nine months on the ground, Battle of Britain Memorial Flight's Avro Lancaster (PA474) returned to the skies on Monday.
The flight was conducted from the Imperial War Museum in Duxford and was the first since the aircraft received a "full deep strip down and inspection" from the Aircraft Restoration Company. The project reportedly included numerous repairs to the bomber's airframe skins and bomb bay doors as well as the replacement of three engine firewalls. It was also completely repainted and adorned with now markings, including 460 Sqn (RAAF)'s AR-L on her port side and 50 Sqn VN-T on her starboard side.
Although the "finer details" of the test have not been released, bomber leader Twigs took to Twitter afterwards, stating, "Didn't get as far as @RAFBrizeNorton for circuits, but we didn't need to. @Aircraft_ARC have done a great job, almost a #NewCarSmell!!"
The Lancaster returned to Coningsby yesterday and BBMF states that "The bomber boys will be training so a fair amount of flying will take place, a PDA will happen so she can display although she can still do flypasts."
Click below to check out a video of the flight.
(Aircraft Restoration Company and Battle of Britain Memorial Flight via LincolnshireLive)