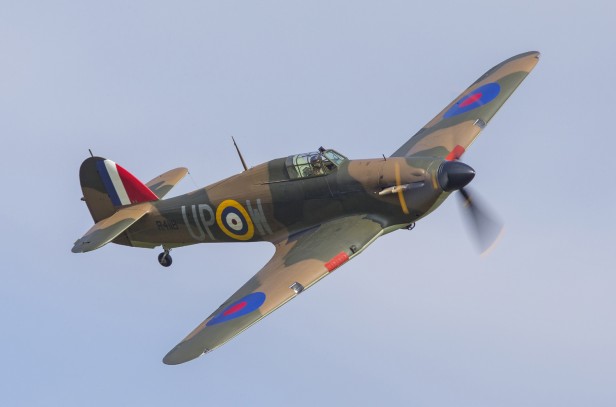 The Shuttleworth Collection in Bedfordshire has announced that the sole surviving Hawker Hurricane from the Battle of Britain will remain in the UK after being purchased by a British aviation enthusiast.
The announcement that Hurricane R4118 was acquired by British software entrepreneur James Brown brought a wave of relief to those who feared the aircraft could end up in the hands of an international buyer, thus removing a significant part of UK history from its shores.
Regarding the purchase, Brown stated:
"R4118 is a remarkable survivor from the Battle of Britain. When I heard the aircraft was on the market, I knew it was critical that this unique piece of Britain's history remained in the UK, so I'm very pleased to have been able to achieve that.

My goal is to ensure that the Hurricane remains in the pristine condition that Peter [Vacher] has returned it to and that it continues to be a regular feature at British air shows for many years to come. Thanks to Peter's efforts to return R4118 to flying condition, the aircraft commands huge affection from the British public and I'm proud to be able to play a part in her future."
R4118 was delivered to 605 Squadron in 1940 and flew 49 operational sorties during the Battle of Britain. The machine downed five enemy aircraft before being shot down itself.
In 1995, retired businessman Peter Vacher discovered R4118 in India, where it had been exposed to the elements for 54 years. He acquired the machine and brought it back to Britain, where it underwent a three year restoration before returning to the air in December 2004.
Vacher is very pleased that the aircraft will remain in the UK, stating:
"R4118 has been a huge part of my life for many years, but I have other projects that I'm keen to focus on and it's time for a new owner to take on the mantle. I'm delighted that James's purchase means not only that R4118 will remain in the UK, but that it will be cherished by a true enthusiast."
R4118 will be based at Old Warden Aerodrome, home of the Shuttleworth Collection, and will continue its participation in major airshows nationwide throughout 2016.
(via Shuttleworth Collection Image: Courtesy of the Shuttleworth Collection © Darren Harbar Photography)