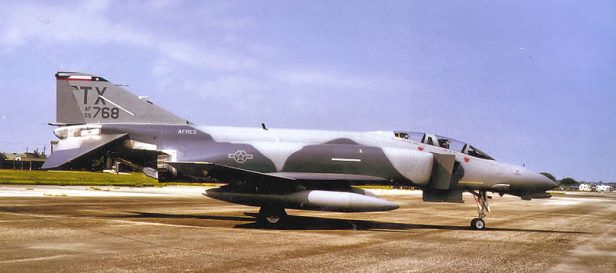 An F-4D-31-MC Phantom II bearing shrapnel damage from the Vietnam War will receive some much needed restoration work thanks to an effort that is currently underway by citizens of Bastrop, Texas.
The aircraft (S/N 66-8768) was constructed at the McDonnell Douglas plant in St. Louis in 1966 and went on to serve with the 8th Fighter Wing "Wolf Pack", becoming a Vietnam and Cold War veteran. It eventually completed its service with the 704 Tactical Fighter Squadron Outlaws of the 924th Tactical Fighter Group, and was one of the last Phantoms to be based at Bergstrom Air Force Base in Austin.
Following retirement from service, the machine was fixed up for display at Bergstrom, but the base's closure resulted in it being relocated to American Legion Post 533 in Bastrop County, where it has remained ever since.
The elements have taken their toll over the years, and the aircraft is now in "dire need" of restoration, a process that will cost roughly $20,000. The Legion is seeking assistance with the costs and have set up a "Special F-4 Account" at the First National Bank of Bastrop.
According to Herman Fabela, an aircraft mechanic leading the restoration, "We are going to make it look good because that's what the community deserves."
Check out the video below to learn more.
(via KXAN)