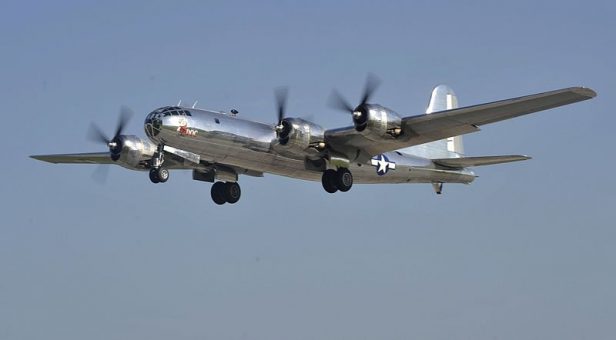 The newly restored B-29 Superfortress "Doc" has completed phase one of its flight test operations and has received a new airworthiness certificate that allows the aircraft to begin touring with with reduced flight limitations.
Specifically, the new, "special airworthiness certificate" removes flight limitation restrictions on distance and flight pattern, and Doc's Friends, the team that oversees the massive warbird, are now in final negotiations with multiple regional air shows including EAA AirVenture in Oshkosh.
Doc's Friends Restoration Program Manager Jim Murphy says that the team is not yet ready to release details regarding a 2017 tour, as they still have some minor winter maintenance to perform before Doc returns to the air, which could happen in early April. However, multiple public events are reportedly being planned in at least six states.
(via Doc's Friends Photo: Erin McClellan via Wikimedia Commons Thanks, Pascal!)