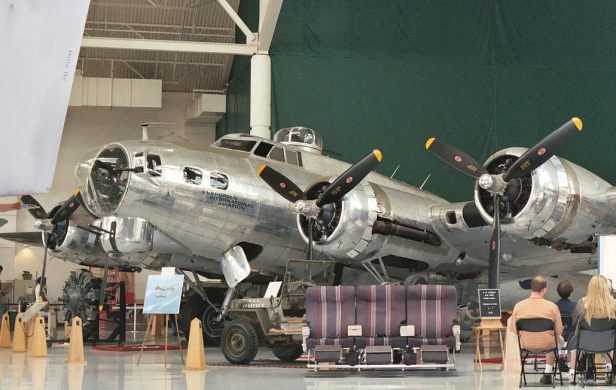 After performing its first flight in 15 years, the Collings Foundation's newly acquired B-17G Shady Lady has departed the Evergreen Aviation and Space Museum in McMinnville, Oregon, where it was on static display for years.
As previously reported, the aircraft (S/N 44-83785/N207EV) was delivered to the USAAF toward the end of WW2 and was used to transport cargo and passengers before entering civilian service. Between 1954 and 1959 it was used by the CIA to perform secret and highly dangerous missions over the Chinese mainland along with four other B-17s. After returning to the US, the machine was fitted with a Fulton Skyhook and demonstrated its capabilities by rescuing James Bond in the 1965 film Thunderball. In later years, it was converted to an air tanker and served as a firefighter until ultimately being restored to military configuration and displayed at Evergreen.
The aircraft was acquired by the Collings Foundation in 2015 and will reportedly receive a detailed inspection and restoration before joining their popular "Wings of Freedom" tour. The tour's current B-17, "Nine-O-Nine", will undergo a major inspection at this point, likely receiving a new livery in the process.
Shady Lady is reportedly working its way east toward Florida. Click below to check out a video of its departure from Evergreen over the weekend.
(via Collings Foundation and planesguy)