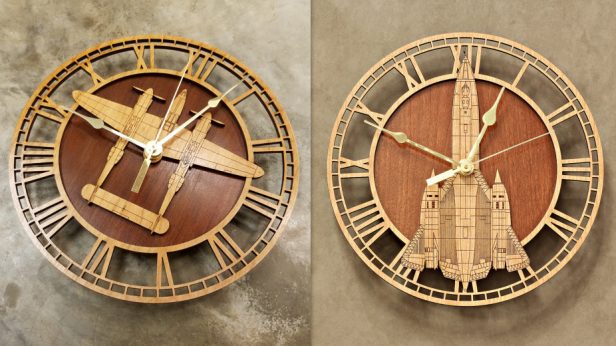 Etsy seller "WhiteRabbitLaserWork" has created a series of awesome laser cut wooden wall clocks featuring detailed plan views of some of history's most iconic warbirds.
The clocks boast subjects from WW2 to the present including (among others) the de Havilland Mosquito, F4U Corsair, P-51 Mustang and P-38 Lightning all the way to the SR-71 Blackbird, F-22 Raptor and F-35 Lightning II. A number of notable bombers are also represented, including the B-17, B-24, B-25, B-29 and B-52.
The handmade clocks are crafted from cherry wood with a quartz mechanism and measure 10″ x 10″. Click here to check out the full collection.